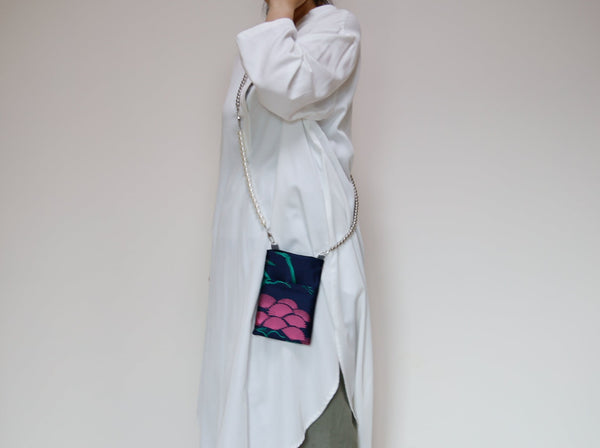 SMART PHONE Pochette
This ultra-minimalist design is even smaller than the popular FUJIYAMA pochette.
It is just the right size to use as a pocket for a smart phone.
It can be used for a wide range of occasions, from one-mile outings to parties and other slightly formal outings.
The chain is a combination of long and short chains, so you can adjust the length or use it as a little handbag, which can be used in many different ways.
It is convenient for carrying only important items on your shoulder when you are carrying a rucksack, backpack, large bag or suitcase.
-Dimensions
Length: 19 cm
Width: 12 cm.
*******************************
This item may be made to order.
Usually dispatched within one week, but during busy times, please allow up to two weeks.
****************
Please note that the detailed parts and specifications are subject to change.
The pattern may not be the same as in the photograph due to the way the fabric is cut and sewn.
The vividness of the colours may change depending on the light (under sunlight and fluorescent lamps).
The colours of the image may differ slightly from the real thing depending on the PC or monitor used.
The measurements are taken by hand, so there may have a slight difference.